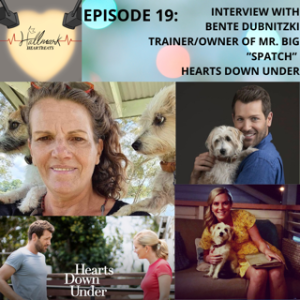 Thursday May 06, 2021
Episode 19: Interview with Bente Dubnitzki, trainer/owner of Mr. Big "Spatch" on Hearts Down Under
This week I get to interview Bente Dubnitzki, owner/trainer of dog actor, Mr. Big who played Spatch in Hallmark Movie Hearts Down Under.
Bente has been dog training for 40 years. We discuss how she started, background stories of all her dogs including Dudley, Pretzel and McGuyver, working with Cindy Busby and much more.
In our Youtube channel, we also have video of all the dogs doing tricks for us. https://youtu.be/VTV1w_Ry2gw
You can listen to the podcasts in all platforms, APple POdcasts, Google Play, Spotify, iHeartRadio, Tune-in+Alexa, Pandora and Youtube.
Follow us on:
Twitter: @hallmarkheartb1
Instagram: @hallmarkheartbeats
Facebook: Hallmark Heartbeats Podcast
Buy me A coffee. I added two levels of membership to our Buy me a Coffee Page.
Americano level: $1 a month. You get to choose which movie I review on weeks that Hallmark doesn't release new movies. For example, last week, Americano level members chose Winter in Vail.
Caramel Macchiato level: $5 a month. Access to never released podcasts. Right now on BMAC, there are podcasts reviewing October Kiss and the first two movies of One Winter Trilogy. For the month of May, I will be reviewing Birthday Wish. (since May is my birthday month). Also you will have access to raw/unedited footage of our interviews (Including 15 minutes extra from our interview with Bente) Shout out on the podcasts and choose the movie of the month to review for the Caramel Macchiato level.
You also have the option to just buy a coffee one time only. Minimum $5
So buy me a coffee please. www.buymeacoffee.com/hmarkheartbeats
Upcoming Podcasts:
May 10: Baby It's Cold Inside Recap
May 17: Sweet Carolina Recap
June 5: You had me at Aloha Recap