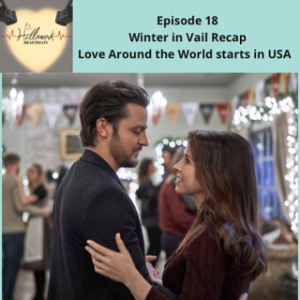 Monday May 03, 2021
Episode 18: "Winter in Vail" Recap Love Around the World starts in USA
This week, Hallmark Channel did a "Love Around the World" Marathon with no new movies. So this week I chose to do listeners' choice, and by an overwhelming majority, Winter in Vail wins starring Lacey Chabert and Tyler Hynes. This is the first movie with these two leading actors, but it certainly isn't their last. They will be starring in Sweet Carolina two weeks time. 
On this podcast, I discuss again this very very popular Hallmark trope. Inherit a fixer upper, renovate it to sell, falls in love, decides to keep the place. I am not lying when I tell you I had major deja vu watching this movie. 
We also discuss the beauties of Vail, chemistry between Lacey and Tyler, Strudelfest and how this was different than last week's Hearts Down Under.
You can listen to the podcasts in all platforms, Apple Podcasts, Google Play, Spotify, iHeartRadio, Tune-in+Alexa, Pandora and Youtube.
Follow us on:
Twitter: @hallmarkheartb1
Instagram: @hallmarkheartbeats
Facebook: Hallmark Heartbeats Podcast
Buy me a coffee. I added two levels of membership to our Buy me a Coffee page. 
Americano level: $1 a month. You get to choose which movie I review on weeks that Hallmark doesn't release new movies. For example I took into account our one Americano level member when choosing which movie to review this week. 
Caramel Macchiato level $5 a month. Access to never released podcasts and raw/unedited footage of our interviews. Shout out on the podcasts and choose the movie of the month to review for the Caramel Macchiato level.
So buy me a coffee please. www.buymeacoffee.com/hmarkheartbeats6
Upcoming Podcasts
May 6: Interview with Bente Dubnitzki, dog trainer/ owner of Mr. Big aka Spatch from Hearts down Under
May 10: Baby It's Cold Inside Recap
May 17: Sweet Carolina Recap
June 5: You had me at Aloha Recap