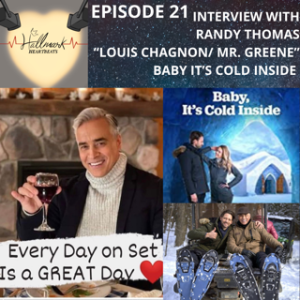 Thursday May 13, 2021
Episode 21: Interview with Randy Thomas "Louis Chagnon" in Baby It's Cold Inside
This week, I get to interview Randy Thomas, co-star in Hallmark Movie titled Baby It's Cold Inside.
We talk about his career, behind the scenes secrets of the movie, Canada and many more.
You can listen to the podcasts in all platforms, Apple Podcasts, Google Play, Spotify, iHeartRadio, Tune-in+Alexa, Pandora and Youtube.
Follow us on 
Twitter: @hallmarkheartb1
Instagram: @hallmarkheartbeats
Facebook: Hallmark Heartbeats Podcast
Buy me a coffee. I added two levels of membership to our Buy me a Coffee Page.
Americano level: $1 a month. You get to choose which movie I review on weeks that Hallmark doesn't release new movies. For example last week, Americano level members chose Winter in Vail
Caramel Macchiato level: $5 a month. Access to never released podcast. Right now on BMAC, there are podcasts reviewing October Kiss and the first two movies of One Winter Trilogy. For the month of May, I will be reviewing Birthday Wish. (Since May is my birthday month). Also you will have access to raw/ unedited footage of our interviews (Including 15 minutes extra from our interview with Randy) Shout outs on the podcast, and choose the movie of the month to review for the Caramel Macchiato level.
You also have the option to just buy a coffee one time only. Minimum $5
So buy me a coffee please. www.buymeacoffee.com/hmarkheartbeats
Upcoming Podcasts:
May17: Sweet Carolina Recap (with Thirsty for Hallmark's co-host Charlie Fields) 
June 5: You had me at Aloha Recap (With Hallmarks the Spot blogger Callie)