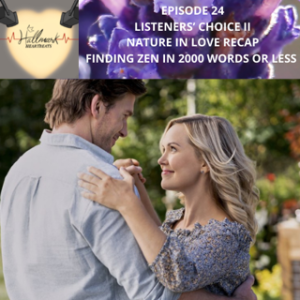 Monday May 31, 2021
Episode 24: Listeners' Choice II: Nature in Love Recap Finding Zen in 2000 Words or Less
This week Hallmark has no new movies again. So it's another week of LIsteners' Choice. This week I am reviewing 2020's Hallmark Channel movie "Nature in Love" starring Emilie Ullerup and Christopher Russell.
On this podcast, we talk about importance of conservation, power of 2000 words, and lessons sprinkled throughout the movie, especially the power of silence and noise.
There's a lot of praise for this movie and well deserved. It's no wonder it is a fan favorite. The chemistry between Christopher and Emilie is palpable. There are strong performances from the supporting characters. The storyline is simple and easy to follow. Also who can complain about the beautiful scenery.
You can listen to the podcasts in all platforms, Apple Podcast, Google Play, Spotify, iHeartRadio, Tune-in+Alexa, Pandora and Youtube.
Follow us on: 
Twitter: @hallmarkheartb1
Instagram: @hallmarkheartbeats
Facebook: Hallmark Heartbeats Podcast
Buy me a coffee. I added two levels of membership to our Buy me a Coffee page.
Americano level: $1 a month. You get to choose which movie I review on weeks that Hallmark doesn't release new movies. For example this week was chosen by listeners.
Caramel Macchiato level $5 a month: Access to never released podcasts and raw/unedited footage of our interviews. Shout out on the podcasts and choose the movie of the month to review for the Caramel Macchiato Level. Movie of the month of May is Birthday Wish starring Jessy Schram and Luke McFarlane.
So buy me a coffee please: www.buymeacoffee.com/hmarkheartbeats
Upcoming Podcasts:
Summer Nights Series Begins
6/7 You had me at Aloha Recap
6/14 Baker's Son Recap
6/21: Her Pen Pal Recap
6/28: Sand Dollar Cove