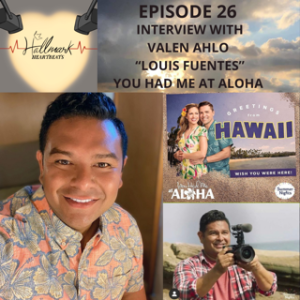 Thursday Jun 10, 2021
Episode 26: Interview with Valen Ahlo "Luis Fuentes" You Had me at Aloha
In this week's podcast, I get to interview Valen Ahlo, a co-star of the most recent Hallmark Movie titled You Had me at Aloha. He's a local Hawaiian actor. 
We talk about his career, behind the scenes information about filming this movie, how it was like working with Pascale Hutton and Kavan Smith and more. Like did you know someone almost died close to where they were filming?  Crazy right?
You can listen to the podcasts in all platforms, Apple Podcasts, Google Play, Spotify, iHeartRadio, Tune-in+Alexa, Pandora and Youtube.
Follow us on Twitter: @hallmarkheartb1
Instagram: @hallmarkheartbeats
Facebook: Hallmark Heartbeats Podcast
Buy me a Coffee, I added two levels of membership to our Buy me a Coffee Page.
Americano level: $1 a month. You get to choose which movie I review on weeks that Hallmark doesn't release new movies.
Caramel Macchiato level: $5 a month. Access to never released podcasts. For the month of May, I reviewed Birthday Wish starring Jessy Schram and Luke McFarlane. This month, in celebration of Pride Month, I will be reviewing Christmas House
So buy me a coffee please. www.buymeacoffee.com/hmarkheartbeats
Upcoming Podcasts:
Summer Nights Series Continues
June 14: Baker's Son Recap
June 21: Her Pen Pal Recap
June 28: Sand Dollar Cove Recap
Christmas in July starts. 
A whole month of Christmas Movies including a new movie titled Crashing Through the Snow airing July 10 starring Amy Acker and Warren Christie