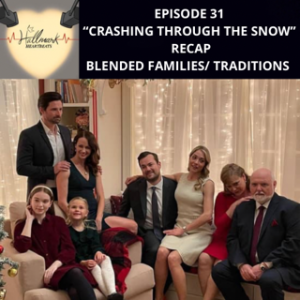 Monday Jul 12, 2021
Episode 31: "Crashing Through the Snow" Recap Blended Families/Traditions
This week I get to review the newest Hallmark movie, the only new movie for the Christmas in July series titled "Crashing Through the Snow" starring Amy Acker, Warren Christie, Kristian Bruun and Brooke Nevin.
This movie is so good. It has such a great representation of what a blended family could be like. Co-parenting and finding new love is possible for everyone. It just takes hard work. I think it is such a great representation of a modern family.
You can listen to the podcast in all platforms: Apple Podcasts, Google Play, Spotify, iHeart Radio, Tune-in+Alexa, Pandora and Youtube.
Follow us on Twitter: @hallmarkheartb1
Instagram: @hallmarkheartbeats
Facebook: Hallmark Heartbeats Podcast
Upcoming Podcasts:
Christmas in July
7/16 Interview with Myla Volk, co-star from Crashing Through the Snow, played Sophie
7/20 Listeners' Choice IV: Candace Cameron Bure Themed
7/27 Listeners' Choice V: Diversity Matters Themed