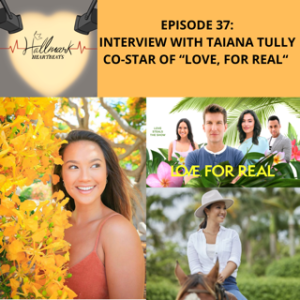 Thursday Aug 05, 2021
Episode 37: Interview with Taiana Tully, Co-star of "Love, For Real"
This week I have the privilege of interviewing actress Taiana Tully, a co-star of the newest Hallmark movie "Love, For Real".
We discuss her role as Bree, the similarities they share, her true feelings of reality dating shows, working with Corbin Bleu, some behind the scenes secrets and many more.
This was a fun interview with lots of laughs, joy and just two girls proudly from Hawaii claiming this place home.
You can listen to the podcasts in all platforms, Apple Podcasts, Google Play, Spotify, iHeartRadio, Tune-in+Alexa, Pandora and Youtube.
Follow us on 
Twitter: @hallmarkheartb1
Instagram: @hallmarkheartbeats
Facebook: Hallmark Heartbeats Podcast
Support the podcast by buying me a coffee please www.buymeacoffee.com/hmarkheartbeats
Upcoming Podcasts:
Second Wave of Summer Nights Movies
8/10 The 27 Hour Day Recap
8/13 Interview with Rhiannon Fish
8/17 Seasled with a Kiss: Wedding March 6 Recap
8/24 A Little Daytime Drama Recap
8/31 Sweet Pecan Summer Recap