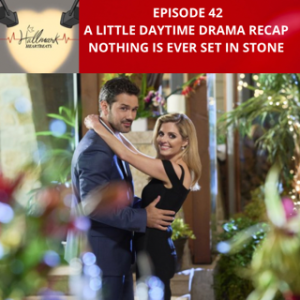 Monday Aug 23, 2021
Episode 42: "A Little Daytime Drama" Recap Nothing is Ever set in Stone
This week I review the fourth movie of the second wave of the Summer Night series titled "A Little Daytime Drama" starring Jen Lilley and Ryan Paevey.
I didn't like this movie. There were several things I had issues with. Too many storylines, there was no flow and the romantic angle was weak. But I do have to say this is the most relatable character Ryan has ever played for Hallmark and love the shoutouts to soap opera tropes.
I gave it 2.5 stars.
You can listen to the podcasts in all platforms, Apple Podcasts, Google Play, Spotify, iHeartRadio, Tune-in+Alexa, Pandora and Youtube.
Follow us on 
Twitter: @hallmarkheartb1
Instagram: @hallmarkheartbeats
Facebook: Hallmark Heartbeats Podcast
Support the podcast by buying me a coffee please:
www.buymeacoffee.com/hmarkheartbeats
Second Wave of Summer Nights Movies
8/31 Sweet Pecan Summer Recap
9/7 Journey of my Heart Recap
Fall Harvest begins
9/14 Roadhouse Romance Recap
9/21 Raise Your Glass to Love Recap
9/28 Take the Reins Recap