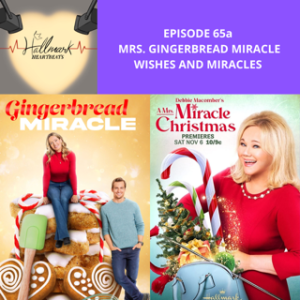 Wednesday Nov 10, 2021
Episode 65a: Mrs. Gingerbread Miracle Christmas, Wishes and Miracles
This week I am joined by Cally Younger, writer for the Hallmarks the Spot Blog and we talk about two of this week's newest Hallmark movies Gingerbread Miracle and Debbie MacComber's A Mrs. Miracle Christmas.
We fall in love with Jon Ecker, lament over where he has been hiding. We also discuss pressures of first and second generation immigrants, expectations and wishes. We praise Hallmark for the steps it's taken towards inclusion and diversity, in particular presenting and explaining the symbolism behind the Las Posadas.
As a former foster child, and Cally being a foster parent, we discuss A Mrs. Miracle Christmas from both perspectives. We share stories of being part of the system, the difficulties of finding homes for older children and more. We praise Hallmark for discussing this subject matter in the movie, also touching upon infertility and how it might affect marriages. Also we praise the comedic moments between Nana and Mrs. Merkel.
Cally gives Gingerbread Miracle 3 stars. Camille gives it 3.5 stars. 
Cally and I both give Mrs. Miracle Christmas 5 stars.
November is National Epilepsy Awareness Month. Kayla has epilepsy. To donate to support the cause, click on the link https://www.epilepsy.com
Join our newly minted Facebook group whose purpose is to highlight diversity and inclusion Hallmark Channel has taken.