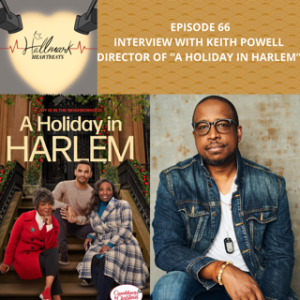 Saturday Nov 13, 2021
Episode 66: Interview with Keith Powell, Director of A Holiday in Harlem
This week, we are joined by Keith Powell, director of newest Hallmark Christmas movie A Holiday in Harlem.
We talk about the making of the film, turning Connecticut to Harlem, his passion for telling important black stories, and Denzel Washington's name was also dropped.
We also talked a little bit about This is Us and the IATSE strikes, how crew of A Holiday in Harlem spoke up in support of how Mr. Powell ran his set and kept everyone safe.
Don't forget to tune in on Sunday night at 8 PM ET on Hallmark Channel to watch A Holiday in Harlem.
November is National Epilepsy Awareness Month. Kayla has epilepsy. To donate to support the cause, click on the link https://www.epilepsy.com
Join our newly minted Facebook group whose purpose is to highlight diversity and inclusion Hallmark Channel has taken.