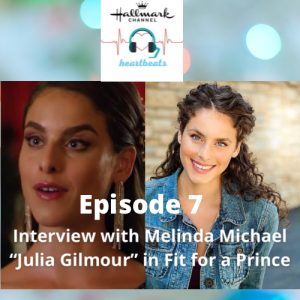 Monday Mar 15, 2021
Episode 7: Interview with Melinda Michael: Inside Scoop on "Fitting for a Prince"
This week, we were so honored to interview "Fit for a Prince" star Melinda Michael who played Julia Gilmour.
We talk fashion, bts antics and her future with Hallmark. It was such an honor to interview Melinda. I hope we hear from her more in the future.
Upcoming Podcasts:
Start of Spring Fling Series:
3/22 Chasing Waterfalls Recap
3/29 Don't Go Breaking my Heart Recap
You can listen to us now on Apple Podcast, Google Play, Spotify, Podbean, Tune in+Alexa and Amazon.
We also have a Youtube channel Hallmark Heartbeats
Follow us on IG @hallmarkheartbeats
Follow us on twitter @Hallmarkheartb1
Support us by Buying a coffee https://www.buymeacoffee.com/hmarkheartbeats
All links are in the linktree in our bio